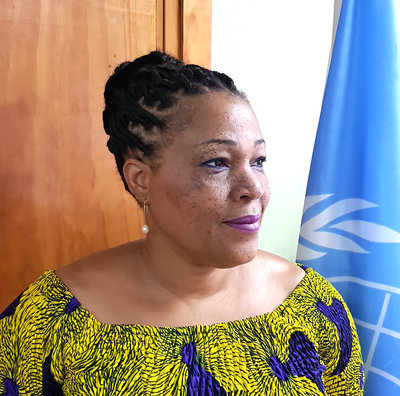 Yewande Odia
Director and Head, OSESG-B
Yewande Odia is the Director and Head of Office at the Office of the Special Envoy of the Secretary-General in Burundi (OSESG-B).
As Head of Office she manages the Special Political Mission on behalf of the Special Envoy, ensuring inclusive dialogue among the political stakeholders, and supporting national reconciliation.
Prior to coming to Bujumbura, Ms Odia served as Chief of Office to the Deputy Special Representative of the Secretary-General/Resident Coordinator/Humanitarian Coordinator in the United Nations Stabilization Mission in Congo (MONUSCO), ensuring UN coherence and delivery of integrated responses to protracted crisis situations through joint analysis and planning, across the humanitarian-development-peace nexus.
She has held other positions in the United Nations at various locations including New York, Mogadishu, Port-au-Prince, Luanda and Monrovia.
Ms Odia joined the United Nations in 1994 as a Legal Officer helping to re-establish the rule of law in Somalia. Throughout her UN career she has worked to protect the interests of the Organization within the framework of the Security Council mandates, the Status of Forces Agreements and other relevant legislation. She has also advised on legal issues pertaining to human resources and developed policy and strategies to ensure accountability.
A national of Nigeria, Ms Odia is a lawyer admitted to the Nigerian bar and the New York State bar. She holds advanced degrees in law and public administration from Columbia University, New York, and Harvard University, Cambridge, USA.